In the wonderful world of comms, we find the best way to help guide you towards the right choice for you; by being transparent, straight talking, up front, and taking time to understand what you need. If you already have the best deal on offer, we'll tell you. If not, we'll also tell you and do our best to get you what you actually need, regardless of the contract. The most natural way to do this is on the phone, so give us a call but for now here's a flavour of what we can offer. WARNING…It does get a bit 'techie' from here. We're sure you'll understand it all, but if you need anything clarifying, just give us a call – there's no such thing as a stupid question, after all – we only care about getting it right for you:

Business mobile
You, me, and mobility
Some things are a given; we all want the best coverage, the best cost deal and it to be a simple and hassle free experience. But despite the best laid plans, needs change. 1823 Group understand that the real world isn't always certain, and so we allow flexibility to change mid contract across the network providers and tariffs, and make sure you keep on the best deal possible.
Looking after you in the UK…
We've built relationships with tier 1 network operators in the UK and are able to provide connections across the Vodafone, EE and O2 networks. In addition to standard mobility, we also supply mobile data services such as data only SIMs and IoT services across all three networks.
… and abroad
Not only can we package a wide range of bundles you can use to roam or call internationally, but we also work with networks around the globe allowing us to provide you with local SIMs abroad to keep your operational costs down.
Flexibility when you need it
Our flexible approach means that we do not tie you down to a single network. Not only are we able to supply you with a mixed estate, but we will also regularly review your account to ensure you are always on the best network and tariff based on your location and usage.
Handsets and accessories
We can supply your organisation with a large variety of handsets at competitive prices and on next-day delivery. We offer the latest models of IoS (Apple) and Android devices, as well as accessories, mobile dongles, Mi-Fi- devices, etc… and can manage your Apple Device Enrolment Program (DEP) on your behalf at the point of ordering.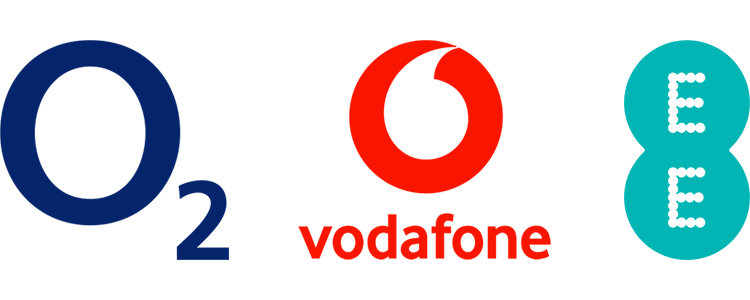 Protection and peace of mind
Mobile security software
Our mobile security software will give you the peace of mind that your devices are protected from cyber-attacks and that your data, and that of your customers, is secure.

Mobile Device Management (MDM)
Our MDM solution provides you with the tools you need to seamlessly administrate your fleet of smartphones, as well as other end point devices. Swiftly deploy and manage policies, provide user authentication, and remote-wipe devices if they become lost or stolen.
Your service, the way you want it
Our customer portal is available to you 24/7 and allows you to instantaneously add and remove bars, manage SIM swaps, set spend or usage alerts, and drill down into billed and unbilled usage.

Cloud communications
You, me, and telephony
Instead of having your own telephone system with all its associated hardware to manage locally on your premises, as people work from multiple locations, a much easier and flexible option is to have a hosted telephony solution which allows you to fix or cap your monthly costs.
Hosted Telephony
Our cloud hosted telephony platform allows you to take calls wherever you are and however you want. Available for desktop and mobile it delivers a host of features in one app including softphone, video, messaging, screen, and group conferencing.
Integrate your existing workflows with Salesforce, Microsoft Dynamics, Sugar CRM, HubSpot, Zendesk, Bullhorn, Pipedrive, and more.
Contact Centre
Sitting on the top of our hosted telephony platform our Supervisor Communicator provides real time call and agent statistics. With the ability to monitor or intervene on any call you can ensure both your staff and customers are looked after to the highest standards.
Omnichannel
If your customers interact with you in a multitude of ways, our omnichannel product, 3sixty, enables you to centralise all communications through a single interface.
Seamlessly integrating with third parties, intelligent routing and automation combine with live reporting.
WhatsApp Business, Facebook, Instagram, Twitter, Web Contact Forms and Live Chat/Chat Bots, SMS, Email, and Phone Calls.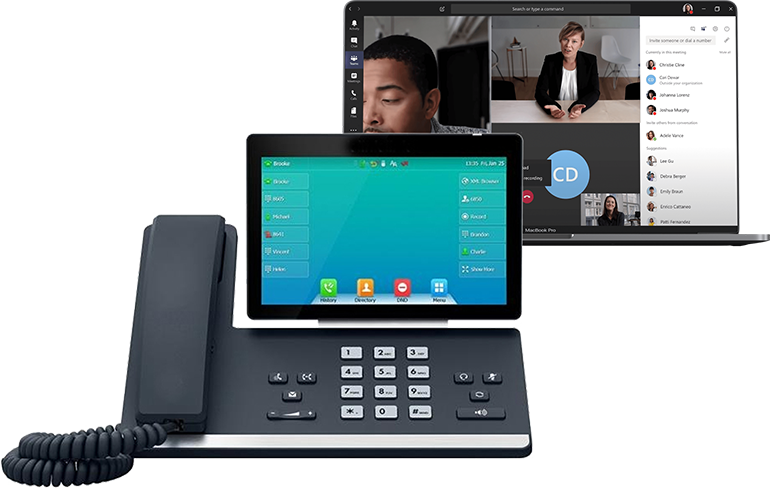 Call Recording (as a Service)
As either an add-on or standalone product our Cloud Hosted Call Recording with AI-driven analytics gives you next-level compliance. Enabling you to gather actionable business intelligence on calls in real time so you can deliver enhanced an customer experience.
SIP Trunking
If your business isn't ready for a full hosted solution and you prefer to keep your on-site PBX you can securely connect into it whilst enjoying access to a range of features. Still future proof yourself with an alternative to ISDN and have the capability to have it scale alongside your business.
Microsoft Teams Direct Routing
If you want to get the most out of Microsoft Teams, then look at Direct Routing to use MS Teams as your phone system as well as your collaboration tool.
Enable the full extent and capabilities of voice services within Microsoft Teams to unify both your internal and external communications.

Secure connectivity
You, me, and connectivity
We work with our customers to help them deliver a fantastic customer experience, with multi-connected environments that are secure and simple from end user to their application. We have relationships with multiple network operators delivering services such as Ethernet, MPLS, VPLS, ADSL, FTTC, FTTP and SD-WAN.
Ethernet Leased Lines
1823 Group's ethernet leased lines gives fibre connection to your business. They are delivered with reliability and durability at the core. They provide very low latency response rates, guaranteed and scalable speeds up to 10 Gb/s allowing your company to scale efficiently and securely.
Fibre to the Premise
1823 Groups' Business Fibre to the Premise, or FTTP, offers Fibre Ethernet speeds at Broadband prices. With speeds of up to 1Gbps, you can run bandwidth-hungry applications without the additional costs of Fibre Ethernet services
We will not only install FTTP but provide the relevant hardware to ensure you get the most out of your service.

MPLS / VPLS
MPLS & VPLS from 1823 Group offers a secure wide area network solution, delivering business-critical services across the UK.
We use MPLS and VPLS technology to deploy a wide area network that you can truly rely on. We provide market-leading hardware to all sites and use our UK and International carriers to offer best-in-breed connectivity. This ensures your traffic and applications perform 24/7.
Managed SD-WAN
Our SD-WAN solution provides unprecedented control and visibility over how a network is behaving and what interventions might be required when it's not performing as planned.
Managed Firewall
Our virtual firewall can be hosted in a private cloud or a public cloud provider environment to deliver simple traffic filtering and NAT—ideal for head end network situations or to secure a cloud compute environment.
Dedicated Firewall
A physical Firewall offers complete protection for customer networks. We provide a firewall device for your sole use that's dedicated to your network and offer flexibility around rules and feature deployments.